The man
Georges Laraque played 13 seasons for different National Hockey League (NHL) teams. He was known as "The Rock", acting primarily as an enforcer on these teams. His best-selling biography, The Story of The NHL's Unlikeliest Tough Guy, goes well beyond the stereotype of the tough guy. It is the story of a true humanitarian, an engaged citizen not only in his immediate community, but on the global stage as well. The son of Haitian immigrants, Georges Laraque campaigned for World Vision to help with Haitian relief and the rebuilding of the Grace Children's Hospital in Port-au-Prince. Today, he is involved in many charities.
An animal right activist and a spokesperson for PETA, he became a vegan in 2009 and has, ever since, contributed to the vegetarian movement in Montreal. A conscientious environmentalist, Georges Laraque stepped up in July 2010 to be the deputy leader of the Green Party.
Since his retirement, Georges has been very active as a public speaker. He has been invited to hundreds of events across North America. He captivates and inspires his public by addressing current topics such as sports, motivation, racism, bullying, veganism, politics and charities.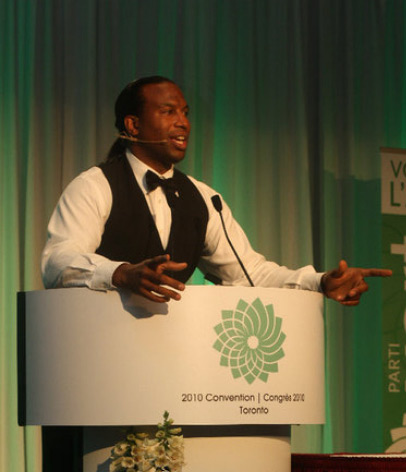 At the very
beginning
At first, Georges Laraque played in a minor hockey league in Sorel-Tracy. Then, he joined the Bantam A ranks and during his second year, he started playing Bantam AA. After playing one year at that level, he got drafted into the Quebec Major Junior Hockey League at age 16 by the St-Jean Lynx.
After his second year with St-Jean, Georges was selected in the second round of the NHL draft by the Edmonton Oilers. The next year, he joined the Granby Predators where he won the 1996 Memorial Cup.
Georges played in the American Hockey League for two years with the Hamilton Bulldogs before making the leap to the NHL with the Edmonton Oilers.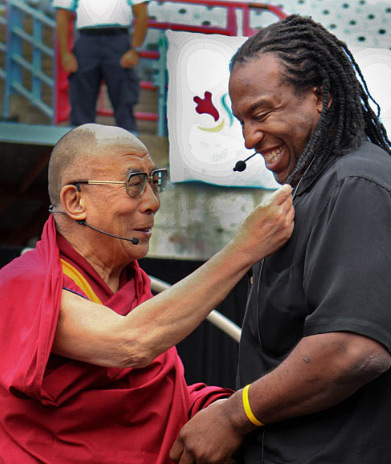 His
career
Georges Laraque played 490 regular season games with the Oilers and 36 playoff games. In 2004-05, during the lockout, he played in Sweden for A.I.K., which, he recalls, was one of the best experiences of his life. Laraque took full advantage of that lockout to visit and live in a country that he had always found fascinating. During his stay, Georges lived and played in the beautiful city of Stockholm. After playing eight seasons with Edmonton, he signed as a free agent with Phoenix where he only played a couple months. Georges then requested a trade and at the deadline, the Pittsburgh Penguins selected him. He played for this team for a year and a half. When his contract expired, he finally signed a three-year contract with his home-town team, the Montreal Canadiens.
So, in total, Georges Laraque played 13 years in the NHL, 695 games including 57 in the playoffs. He made two appearances in the Stanley Cup Final, one with Pittsburgh in 2008 and another with Edmonton in 2006. He also scored one hat trick. When Georges looks back on his hockey career, he says: ″All of this went well beyond my expectations and I'm proud of what I have accomplished. Montreal was my fourth team and I was only traded once, at my own request. Every time I became a free agent, I had a dozen teams to choose from. Believe me, when you retire, those are the things that you never forget!"
His childhood
Georges Laraque was born on December 7, 1976 in Montreal. He is the oldest of three children and both his parents are from Haiti. The Laraque family was very active. Physical activity was a priority in their lives. Since he was a kid, Georges was involved in judo, figure and speed skating and his favorite sport, soccer. It was a good thing, since he had lots of energy.
The family moved to Sorel-Tracy when Georges was five years old. Unlike the warm welcome they received in Montreal, the Laraques faced racism and bullying in that town to the extent that Georges almost abandoned the dream he cherished already for a long time, to play in the NHL.
It's after reading Jackie Robinson's biography, the first black major league baseball player, that Georges rolled up his sleeves and discovered the strength to believe in his dream
Despite the difficult times, the Laraque family stayed in Sorel-Tracy for several years and continued to evolve in an environment of discipline, personal ethics and respect. It is years later that they all moved back to Montreal to settle in for the long term.